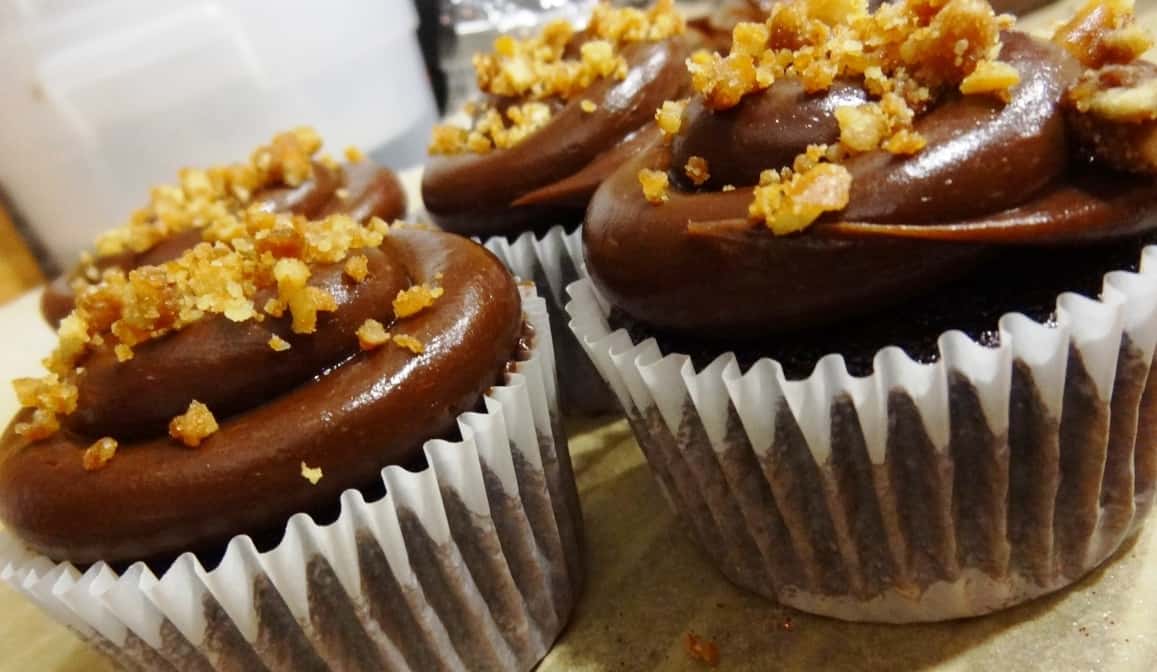 One of my favorite things to do in the kitchen is create mash-ups of my best-loved baking recipes. I am immensely enjoying experiments of the "sweet & salty" variety at the moment, with particular affinity for the pairing of chocolate and pretzels. [Note to self: Next time I make Whole-Wheat Cinnamon Sugar Pretzels, drizzle with melted chocolate. Duh.] The talented folks at Momofuku Milk Bar in New York are doing *mind-blowing* things with pretzels; I mean, seriously– PRETZEL MILKSHAKES. A milkshake… that tastes like pretzels! They've been on my mind since I had the divine pleasure of consuming one (okay… two) in June. Needless to say, I had to try some of the pretzel-based recipes in their book over the summer. One of the reasons that I love Milk Bar so much is their penchant for reinventing or repurposing ingredients in magical ways. One of their signature creations is called "the crunch", a clustery mixture of butter, milk powder, sugar, and a featured ingredient, which is baked and then mixed or layered into cookies, cakes, ice cream– you name it. They make various crunches, including cornflake crunch, ritz crunch, and my favorite: pretzel crunch. The flavor of the crunch permeates each bite and generally takes any given treat to a whole new level of awesome. One of the coolest ways to use pretzel crunch is to press it into a pan for pie crust, which got the gears turning in my head… Is there any universe in which this would NOT be amazingly delicious at the bottom of a cupcake?! I'm glad you agree.
What else do many people like with their pretzels? BEER. I am personally not a beer drinker (it just tastes bitter to me), but I do love a good chocolate stout cake. And where better to find a great recipe for cupcakes with booze? The Butch Bakery cookbook– cupcakes for dudes. (Lots of booze, no fluffy pink frosting swirls.) The original recipe includes a vanilla-stout frosting, which is delicious, but I haven't perfected the consistency yet. For my mash-up cupcake, I decided to pair the cake with my favorite chocolate ganache frosting.
Ultra-Rich & Creamy Bittersweet Chocolate Frosting
Adapted from Cooks Illustrated
My preferred chocolate for this recipe is Guittard 61% "Lever du Soleil" couverture chocolate wafers. (They are small enough that you don't need to chop them up.) Other brands that would be equally successful include Valrhona and Scharffen Berger. The specific brand is not as important as the quality of the chocolate; different brands have slightly different flavor characteristics, and it's often a matter of personal preference. Since chocolate is the star ingredient here, you want to choose one that rouses pure, unadulterated chocolaty bliss in your mouth! It's best to use high quality chocolate whenever possible, but it's especially important in a recipe featuring chocolate.
6 ounces high-quality bittersweet chocolate, chopped
½ cup heavy cream
2 tablespoons light corn syrup
Pinch of fine sea salt
⅔ cup confectioners' sugar
1 teaspoon vanilla extract
8 tablespoons unsalted butter, cut into 8 pieces
Put the chopped chocolate in the bowl of a food processor fitted with the metal blade. Combine the heavy cream, corn syrup, and salt in a small saucepan over medium heat and bring the mixture just to a boil; stir occasionally.
Turn on the food processor and slowly stream the hot cream mixture through the feed tube. Keep the machine running until the mixture is smooth, about 1 minute; scrape down the sides of the bowl. Add the confectioners' sugar and vanilla extract and process until the mixture is homogenous, about 30 seconds. Scrape the sides of the bowl again. With the food processor running, add the butter one piece at a time. Process the frosting until no butter chunks remain; it should take about 1 minute to achieve a smooth mixture.
Pour the chocolate into a small bowl and let it stand at cool room temperature until it thickens to a spreadable consistency. This usually takes a few hours on my countertop. (You can also expedite the process in the fridge if needed.)
One batch of frosting will frost approximately 12-18 cupcakes, depending on your desired cupcake:frosting ratio.
NOTE: It took me a few ruined batches (before I learned a few things about ganache) to realize that you should NOT TOUCH the frosting while it's cooling. If you stir it during this stage, you will end up with a bowl of hardened, matte mess. And you will be sad. If not disturbed by a spatula, impatient fingers, or other incoming objects, you should have a bowl of beautiful, lustrous frosting that is firm enough to be scooped into a piping bag and will hold creamy swirls on top of your cupcakes.
Make ahead: I often make the frosting the day before I bake, and it keeps perfectly well, tightly covered in the fridge for several days. Bring it to room temperature on the countertop (not in the microwave) before frosting the cupcakes.
While your frosting sets, make the pretzel crunch and chocolate stout cake:
Pretzel Crunch Crust
Adapted from Momofuku Milk Bar

The weight and volume measurements in Milk Bar recipes vary quite a bit sometimes; I highly recommend using the weight measurements whenever possible, though I don't weigh the butter.
100g mini pretzels (2 cups)
60g light brown sugar (¼ cup tightly packed)
25g sugar (2 tablespoons)
20g milk powder (¼ cup)
10g malt powder (about 1 tablespoon)
100g unsalted butter, melted (7 tablespoons)
25g unsalted butter, melted (2 tablespoons)
Heat the oven to 275°F. Line a rimmed baking sheet with parchment paper.
In a medium bowl, crush the pretzels into small pieces with your hands. Add the milk powder, malt powder, sugar, and salt to the bowl and toss to combine. Add the 7 tablespoons of melted butter and toss to coat evenly. As you mix, the butter will cause the dry ingredients to stick to the pretzels and form little clusters.
Spread the clusters on the prepared sheet pan and bake for approximately 18-20 minutes, checking after 15 minutes for over-browning. The buttery, malty aroma will fill your kitchen and make you want to eat the clusters by the handful! When you take them out of the oven, the butter/sugar mixture will be golden brown and puffed up; stir the pretzel pieces with the caramelized goo to make sure all the pretzels are well-coated. When they're done, they will be toasted and a little soft to the touch, but they will firm up with a pleasant crunch as they sit at room temperature.
Set the baking sheet on a cooling rack and let the pretzel crunch cool completely before using it for the cupcake crusts. You can also make the crunch ahead of time and store it in an airtight container. At room temperature, it will keep for a week; in the fridge or freezer, it will keep for 1 month (though I've never tried this). If you are making the crunch ahead, stop here; proceed to the next step when you're ready to make the cupcake batter.
Increase the oven temperature to 350°F. Prepare two standard muffin pans with cupcake liners and set aside. You will yield enough batter and pretzel crust for about 18 cupcakes, so one of your pans will not be completely full.
Once the pretzel clusters have cooled, you will commence crust assembly. In a food processor, crush the clusters into pea-sized pieces– they will look like pretzel-toffee crumbs. Pour the crumbled pretzel crunch into a mixing bowl and add the remaining 2 tablespoons of melted butter; combine thoroughly. Scoop about 1 tablespoon of the mixture into each of the prepared cupcake liners. With the bottom of a small glass, press the crust mixture down firmly and evenly. Reserve about ½ cup pretzel crunch to garnish the frosted cupcakes. (However, if you can't help but eat it all before you get to that point, feel free to decorate your cupcakes as desired.) 🙂
Bake the crusts for 5 minutes and set aside while you make the chocolate-stout batter. Keep the oven on.
Chocolate Stout Cupcakes
Adapted from The Butch Bakery Cookbook
This is one of the best chocolate cupcakes I've made. Ever. In my entire life. The chocolate and beer bring out each other's best flavor notes beautifully– the chocolate tastes darker and more decadent, and the stout lends a rich creaminess with a pleasing kick. The recipe suggests Guinness, but I used Samuel Smith's Oatmeal Stout, which has a deep malty, caramel flavor that works especially well in a chocolate cupcake.
12 tablespoons (1 ½ sticks) unsalted butter, softened
½ cup unsweetened cocoa powder (I recommend Valrhona)
¾ cup dark stout, such as Guinness, poured and settled before you measure
2 large eggs, broken into a small bowl
½ cup full-fat sour cream
1 ¼ cups unbleached all-purpose flour
1 ¼ cups sugar
1 teaspoon baking soda
¼ teaspoon salt
The oven should still be set to 350°F.
Melt the butter in a small saucepan over low heat. Remove the pan from the heat and add the cocoa powder; stir until smooth. Then stir in the stout. Set the mixture aside to cool for about 10 minutes.
Whisk together the eggs and sour cream in a medium bowl. Add the cooled chocolate and mix well. Combine the flour, sugar, baking soda, and salt in a medium bowl. Add to the liquid mixture and whisk until smooth, scraping down the bowl as needed. (Mixing the dry ingredients in a separate bowl first helps to incorporate them more evenly when added to the wet ingredients, which reduces the risk of over-mixing the finished batter.)
Fill each pretzel-crusted cupcake liner about ¾ full with your luscious chocolate-stout batter. I like to use a medium spring-loaded ice cream scoop for this. I generally bake each pan separately, though the original recipe implies that you can put them in together. Bake the cupcakes for 15-20 minutes (depending on your oven), rotating the pans halfway through. The tops should be just firm to the touch (should spring back if you touch one lightly) and a cake tester inserted in the center of a cupcake should come out clean.
Set the cupcake pans on cooling racks, and leave the cakes in their snuggly wells for 5-10 minutes. Once they firm up a bit and are cool enough to handle, remove the cupcakes and allow them to cool completely on the racks before frosting.
By this time, your frosting should be about ready to use. Transfer the frosting from the bowl to a pastry bag fitted with a medium or large plain cake tip. I find that the easiest and least messy way to do this is by using a large spring-loaded ice cream scoop. I prefer simple, elegant frosting swirls, but any number of designs would be lovely. Sprinkle each cupcake with a bit of the remaining pretzel crunch.
Admire your splendid creations and then immediately proceed to devouring them with reckless glee. Or you could share them… but let's not get too hasty. 😉
The combination of chocolate, stout, and pretzels is one of my favorites EVER– the flavors compliment each other extraordinarily well, in my opinion. I was so utterly pleased with these, and I hope you enjoy them too!