I live in California. What we call "winter" is a pathetic shadow of what the rest of the country endures for several months of the year, and it seems that this year's cold season has been particularly long in many regions. I have reveled in our 70°+ March and April days, weeks-long stretches of brilliant blue sky, and blooming trees and flowers for the past month, while everyone else was trying to dig out of their respective snowy messes. I felt a little guilty about this, so I wanted to bake something that radiates springtime, in the hope that Mother Nature would hurry up already with spring in the rest of the country! Much as I love the rich, decadent flavors of winter/holiday desserts, I yearned for something bright and cheerful to sing the praises of spring…
I am not generally a big fan of honey– I can't stand the taste of it in its raw form. But blended with other ingredients, it can transform a baked dessert with its kiss of natural sweetness.
One of my favorite applications of honey is honey cake, which I love in the spring, as well as in autumn for Rosh Hashanah, the Jewish New Year. Honey cake is the traditional cake for this holiday, symbolizing the wish for a "sweet new year". As a springtime cake, it celebrates the season of birth and renewal, the new cycle of life for the coming year. I typically like to make this recipe as cupcakes topped with lemon cream cheese frosting and decorated with candy bees, or as a shaped beehive cake drizzled with lemon glaze. However, this time I had other ideas– a while ago, I bought the adorable Honeycomb Cake Pan from Williams-Sonoma (available at other places as well, such as Sur La Table), which features a geometric honeycomb pattern of pull-apart cake segments detailed with bees and honeycomb hexagons. I have a bad habit of buying cake pans and not using them; this was the perfect opportunity to finally bust out my honeycomb pan!
Honey cakes are typically moist and sweet, but they can be heavy, dense, and overly flavored of honey. My favorite recipe is Sister Sadie's Rosh Hashanah Honey Cake from the book Southern Cakes, and I have made it over and over with consistently great results. It originally came from Matzoh Ball Gumbo: Culinary Tales of the Jewish South (which has been on my Amazon wishlist for ages). The honey cake always turns out moist, light, and flavorful. It has a big, beautiful, open crumb, not unlike a network of honeycombs, actually! This particular recipe has a secret ingredient: cola. A ½ cup of flat cola gives the cake a little more depth and sweetness, but it does not taste like a cola-flavored cake. (You can also use cold coffee instead.) In the past I've used Coca-Cola, but this time I bought Whole Foods brand cola, which contains *real sugar*, rather than high fructose corn syrup, and which tastes a lot more natural to me.
Now, the past couple of weeks have been riddled with baking mishaps for me, and this was, sadly, one of them. It was not because there was anything wrong with the recipe, but rather because I wasn't paying attention! As I mentioned earlier, I usually make this recipe as a shaped beehive (about the same size as a Bundt cake) or as cupcakes. I didn't realize that this cake pan has a much smaller capacity… until the cake was rising in the oven, eventually overflowing the rim of the pan like hot lava! Since the cake was too thick, the center didn't cook all the way through, yet the edges were getting mighty crispy, so the first attempt just, um, didn't work out…
If nothing else, I am stubborn determined to see a recipe through, so I made it again, *halving* the quantity this time. It worked much better, but the individual cake segments were a little shorter than I would have liked, since the cake batter didn't rise as high in the pan. Next time, I will make the regular recipe quantity and use about ¾ of the batter for the honeycomb cakes, and I'll make cupcakes or a small loaf with the remaining batter. Also, if you don't own the Honeycomb Cake Pan, you can easily make this recipe in any light-colored metal pan with small wells or a full-sized Bundt/shaped pan.
Since I was planning to garnish the honeycombs with only a simple dusting of confectioners' sugar, I decided to make an accompanying lemon crème anglaise, which was a lovely combination. (Incidentally, I think this cake would also be delish with cajeta, a Mexican dulce de leche.) I had never made crème anglaise before, and that, too, was a disaster on the first try– again, because of my own error, not a faulty recipe. Quite simply, I was trying to do too many things at once, and I couldn't keep an eye on everything at the same time! Instead of a silky custard, I ended up with mushy scrambled eggs… FAIL.
The second time, I paid close attention to my egg/milk mixture on the stove, and it turned out perfectly. In fact, crème anglaise is obscenely easy to make– I thought it would be a complicated, finicky French recipe, but it was disarmingly simple. I adapted David Lebovitz's Orange Crème Anglaise recipe, substituting lemon zest for the orange zest, and adding a touch of vanilla bean paste for a rich vanilla flavor and the pretty vanilla bean specks.
Tips for success with this recipe/cake pan:
The honeycomb pan has such intricate nooks and crannies that it would be nearly impossible to grease the details by hand with butter or shortening. (I'm pretty OCD with my baking, but not that much!) Instead, I sprayed the pan very liberally with nonstick cooking spray and flipped it upside-down onto a paper towel on the countertop while preparing my ingredients. This allows the liquid spray to trickle down (rather than pooling in the wells of the pan), coating every crevice of the pan before dripping the excess onto the paper towel. I had no cake bits stuck to the pan, nor was my cake greasy– the honeycomb detail came out perfectly crisp and intact!

The crème anglaise must be chilled ahead of time, so make this before the cake.
Lemon-Vanilla Bean Crème Anglaise
Adapted from David Lebovitz
Makes 2 cups (500ml)
Crème anglaise is a versatile accompaniment to all sorts of desserts, from cake to soufflé to fresh fruit. It is not especially thick or sweet, and it can be customized with a number of flavoring agents; my lemon-vanilla version pairs beautifully with honey, fruit, and possibly chocolate. This pourable custard is best served cold, so be sure to give it enough time to chill sufficiently before serving. If you serve it in a pitcher or bowl, you can even chill the container first to keep the crème as cold as possible.
2 cups (500 ml) whole milk
7 tablespoons (85g) sugar
Pinch of kosher salt
2 lemons
6 large egg yolks
½ teaspoon vanilla bean paste
Combine the milk, sugar, and salt in a medium saucepan. Using a fine grating tool or citrus zester, grate the zest from the lemons directly into the milk mixture. (Take care to grate only the yellow peel; the white pith underneath is bitter.) Warm gently over medium-low heat; do not allow the mixture to boil (unless you want those scrambled eggs that I mentioned earlier). Remove the pan from the heat, cover, and let the lemon-milk mixture steep for 1 hour.
Next, you will cook the custard and then immediately chill it in an ice bath to halt the cooking process. Before cooking, prepare your ice bath by placing a few cups of ice cubes and a little cold water in a large bowl, and then nestle an empty, smaller metal or glass bowl directly in the ice. Set a fine-mesh strainer over the small bowl.
Whisk the egg yolks in a separate medium bowl and set aside.
Gently reheat the lemon milk over a medium-low burner (again, no boiling), then slowly stream it into the egg yolks, whisking constantly as you pour. Transfer the mixture back to the saucepan and cook over moderate heat, stirring constantly with a heatproof spatula, until the custard begins to thicken and coats the spatula.
A few tips on that last step, which I learned through overcooking it the first time:
Use a small burner if possible and set it no higher than medium-low heat.
Make sure to scrape the edges of the pan while stirring the mixture.
When looking for the custard to coat the spatula, we are not talking about a thick layer here– just a thin covering tells you the crème anglaise is done.
Turn off the heat and immediately pour the custard into the strainer set over the ice bath. Once most of the liquid has passed into the bowl, press the lemon zest firmly into the strainer to extract as much flavor as possible. Discard the soaked lemon zest.
Stir the crème anglaise with a spatula or wooden spoon until cool. As the lemon custard is cooling, stir in the vanilla bean paste.
Pour the cooled custard into an airtight container and chill in the refrigerator for several hours or overnight before serving. It will keep for up to 3 days.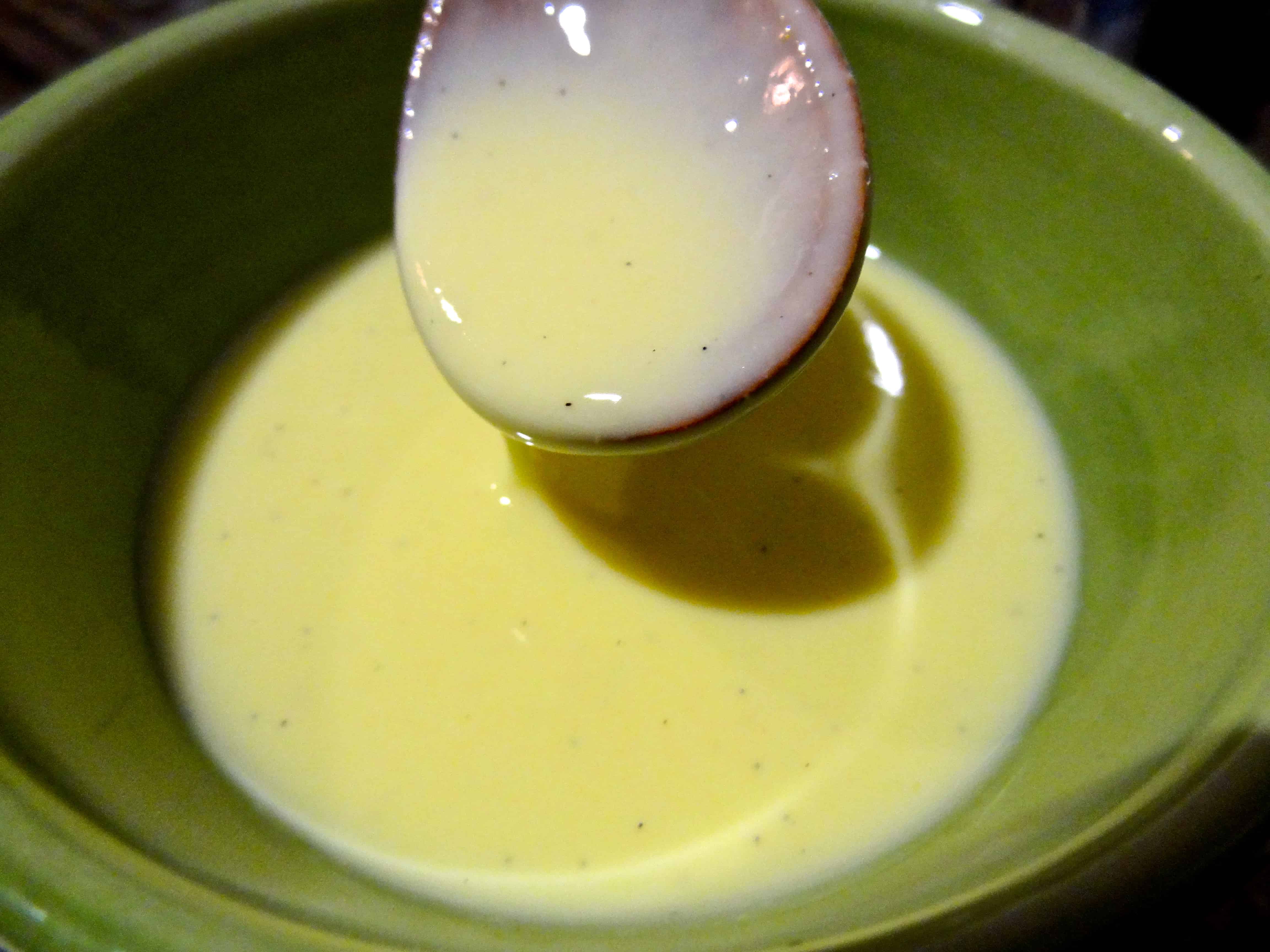 While the crème anglaise is chilling, make the honey cake.
Pull-Apart Honey-Cola Cake
Adapted from Sister Sadie's Rosh Hashanah Honey Cake in Southern Cakes by Nancie McDermott (originally from Matzoh Ball Gumbo: Culinary Tales from the Jewish South)
Yields 19 pull-apart cake segments + 4-6 cupcakes (or 24 cupcakes, 2 loaf cakes, or a 10-cup Bundt/shaped cake)
This recipe was originally written for 2 loaf pans, though I've only ever made it in a shaped beehive pan or as cupcakes prior to now. For this honeycomb pan, use ¾ of the batter and make cupcakes or a small loaf with the remaining batter. Alternatively, you can make 2 dozen cupcakes, a Bundt-sized cake (approximately 10-cup capacity), or 2 loaves. Also, the recipe takes well to being cut in half, in case you want smaller pull-apart sections, fewer cupcakes, etc.
I made 2 minor changes to the ingredients: the addition of vanilla extract and the omission of sliced almonds. Vanilla lends a warmth and complexity to pretty much everything; it complements both honey and cola very well, so I highly recommend it. The original recipe calls for garnishing the loaf cakes with ¼ cup sliced almonds; feel free to do this if making loaves.
3 ½ cups unbleached all-purpose flour
2 teaspoons baking powder
½ teaspoon baking soda
1 teaspoon ground cinnamon
1 teaspoon ground allspice
½ teaspoon kosher salt
2 cups honey
1 cup granulated sugar
4 eggs, at room temperature
½ cup flat cola, at room temperature (or cold strong coffee)
1 teaspoon pure vanilla extract
½ cup canola oil
Preheat an oven to 325°F and position a rack in the center. Grease the inside of your cake pan with nonstick cooking spray (see note above regarding the honeycomb pan) and set aside. Prepare an additional vessel as needed for the leftover batter: line a cupcake pan with baking cups, grease a loaf pan, etc.
Place the flour, baking powder, baking soda, cinnamon, allspice, and salt in a large bowl and whisk to combine.
In a medium bowl, whisk together the honey and sugar until smooth. Add the eggs 2 at a time and whisk until completely incorporated. Whisk in the cola and vanilla, followed by the canola oil, until the mixture is smooth. It will be thick and ribbony.
Make a well in the center of the dry ingredients and stream in the honey/cola mixture. Fold everything together gently with a rubber spatula just until the flour has been absorbed. (It's okay if there are a few stubborn lumps, but try to achieve as smooth a mixture as possible without over-mixing.)
Scrape ¾ of the batter into the honeycomb cake pan. Bake for approximately 45 minutes or until a cake tester inserted into the center of the cake comes out clean. (I recommend checking a few spots since the surface area of this cake is very wide.) The top should spring back when lightly pressed and the cake should pull away from the sides of the pan. Allow the cake to cool in the pan for about 30 minutes on a wire rack.
Bake the remaining batter in your chosen vessel. Cupcakes should take approximately 20-23 minutes, though begin checking for doneness a little earlier. Full-sized Bundt or loaf cakes should take about 50-55 minutes.
Place a piece of parchment paper over the rack and turn the cake out onto the lined rack to cool completely. Dust the cooled cake with confectioners' sugar to highlight the honeycomb details. Alternatively, the cake may be served warm (omit the confectioners' sugar, as it will just melt).
When ready to serve the cake, pour a small pool of the chilled lemon-vanilla crème anglaise in the center of a small plate. Cut or pull apart a cake segment and place it on top of the sauce. Enjoy your sweet little morsel of spring! 🙂
© Dafna Adler & Stellina Sweets, 2013.